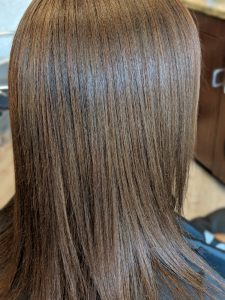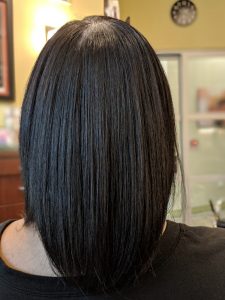 Kenya has used her extensive training and experience to develop a healthful approach to relaxing and chemically straightening hair.  Kenya will listen to your requests and needs to make sure you are satisfied with the result!
Tip: The chemicals used in relaxers can be harsh; this is why you have to use a professional like Kenya.
Q: After getting my hair relaxed, what shampoo, conditioner and styling products should I use?
A: Whether your hair is chemically treated or natural, hair care products make a big difference in keeping your hair healthy and reducing breakage. Kenya carries several products for your hair needs- shampoos, cleansing, conditioning and styling. Product lines she recommends include Paul Mitchell, Design Essentials and more. She can help you learn what kinds of products you should be using for your hair-type and goals. Ask Kenya which products she recommends for your hair.
"It's been over 5 years and I will continue to utilize Kenya's
services as they have become better with time!!" – Kim S.