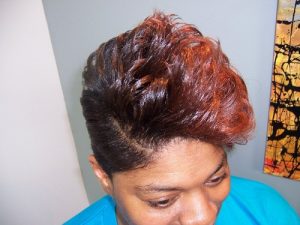 Great color and artistic design are Kenya's specialty. Years of experience has given Kenya knowledge on how to create or duplicate virtually any hairstyle and color!
Tip: Styling aids such as gels and holding sprays DO NOT help color last longer. Instead, they leach the hair of moisture and can damage already fragile hair. They also cause build-up so occasional use of specialty shampoos for color-treated hair is a good idea. More than likely the manufacturer of the product used to color your hair has a special line of shampoos and conditioners that are designed to maintain your colors vibrancy.
Ask Kenya which products she recommends for your hair.